PC4 GP Circle Webinar
2022thu03nov6:00 pmthu7:00 pmPC4 GP Circle Webinar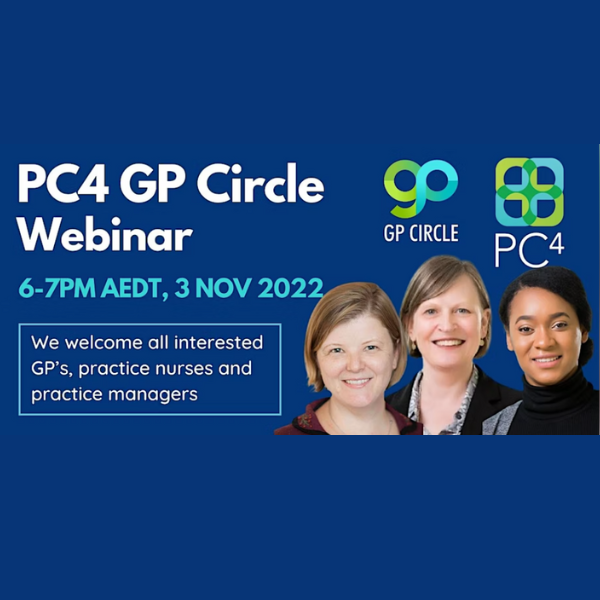 Event Details

We welcome all interested GPs, practice nurses and practice managers to attend this webinar. We look forward to hearing from A/Prof Jo-Anne Manski-Nankervis, A/Prof Jenny McIntosh and Shakira Milton.
Learn from A/Prof Jo-Anne Manski-Nankervis about how new technology such as Future Health Today (FHT) and TorchRecruit is helping primary care research. FHT is a software platform designed by general practice, for general practice, that applies algorithms to data stored in electronic medical records to identify people who may be at risk of, or have a health condition that might benefit from optimisation of management.
SmartScreen, led by Prof Jon Emery and A/Prof Jenny McIntosh, is the foundation for the new SMARTERScreen trial. SmartScreen investigated whether an SMS from your GP would increase participation in the Australian National Bowel Cancer Screening Program.
Shakira Milton is a Research Fellow and PhD candidate working within screening, prevention, and early diagnosis of cancer with a particular focus on bowel cancer, patient experience and decision aid development. Shakira presents an RCT of a decision aid to support informed choices about taking aspirin to prevent colorectal cancer and other chronic diseases: a study protocol for the SITA (Should I Take Aspirin?) trial.
Note for attendees: please ensure your microphone is muted during the presentations. A close-captioned recording of this webinar will be available after the event.
Time

(Thursday) 6:00 pm - 7:00 pm AEDT