MyMedicare
---
MyMedicare is a new voluntary patient registration model. It aims to strengthen the relationship between patients, their general practice, general practitioner (GP) and primary care teams and will enable a blended funding model that sits alongside fee-for-service care.  
About MyMedicare
What is MyMedicare:
MyMedicare is a voluntary registration system designed to improve healthcare delivery and patient experiences. It allows individuals to choose their preferred general or nurse practitioner and healthcare team.   
By registering with MyMedicare, patients and practices can access a range of benefits, including longer MBS-funded telephone calls, triple bulk billing incentives for telehealth consultations, and tailored care for complex chronic diseases. Registration is voluntary for all patients, providers and organisations. Most patients will be able to register with a practice if they have visited your practice once in the past 24 months.
MyMedicare promotes stronger relationships between patients and their care teams, supporting person-centred care and reducing hospitalisations. It will be integrated with the My Health Record, facilitating effective communication and collaboration among healthcare providers. 
Why Join MyMedicare: 
A well-supported general practice team can deliver sustainable, equitable, high-value health care that benefits patients and providers.  
Benefits for your practice: 
Strengthens the role of general practice in the Australian health system.

 

MyMedicare integration with the My Health Record, allows hospitals and other health providers to communicate with a patient's regular GP easily.

 

Practices will have better information about which patients see them as their usual practice, making it easier to tailor services to fit their needs.

 

Blended funding payments are available through MyMedicare to support primary care providers in keeping registered patients with complex chronic diseases out of hospital.

 

The new General Practice in Aged Care incentive supports GPs providing regular visits, health assessments and care plans for people living in residential aged care homes.  

 

Chronic Disease Management items linked to a patient's registration in MyMedicare from November 2024, to support continuity of care for people with chronic and complex conditions. Patients who are not registered in MyMedicare will still be able to receive Chronic Disease Management items from their usual GP.

 
Benefits for your patients: 
Supports practices to provide preventive care and early treatment allowing patients to stay active and healthier in the community for longer.

 

Promotes establishing relationships with a nominated GP and practice for seamless, integrated and continuous care; where patient needs are understood and prioritised.

 

Reduces fragmentation of care caused by multiple service providers. 

 

Funds longer telehealth appointments that will benefit people with disabilities or mobility issues who find it difficult to get to face-to-face appointments.

 

Supports the delivery of quality and continuous care to residents in aged care facilities.

 
Who is eligible for MyMedicare: 
To read about MyMedicare eligibility for practices, general practitioners and your patients, please visit the Department of Health and Aged Care. 
Getting ready for MyMedicare:
General Practice Registration: 
Eligible general practices can begin the MyMedicare registration process.  
General practices can register in the Organisation Register from 1 July 2023.   
To register, you must;  
Ensure your eligibility 

 

Create your organisation in PRODA

 

Link your PRODA organisation to HPOS

 

Access the Organisation Register in HPOS to - 

 

Create your Organisation record 

 

Create your Organisation site record 

 

Link your eligible providers 

 
Services Australia provides elearning modules to assist you with the processes required to set up and use the Organisation Register.
From 1 October 2023, practices will have access to the MyMedicare program code in the Organisation Register. This step is critical in ensuring you are officially registered with MyMedicare and can begin registering patients.
From 1 October 2023, you will then need to:  
Add the MyMedicare program code in the Organisation Register

 

Start registering your patients

 
View the Checklist and steps to register for MyMedicare on the Organisation Register on the Services Australia website for more information. 

Patient Registration: 
Patients can register for MyMedicare from 1 October 2023. 
Patients can complete registration in one of the following ways: 
Patients can commence the registration process in their Medicare online services (Medicare Online Account or the Express Plus Medicare mobile application) and the practice staff can then accept or decline the registration in MyMedicare.

 

Practice staff can start the patient registration process in MyMedicare. The patient will then complete and provide consent for the registration in their Medicare online services.

 

Patients can fill out a registration form at the practice (or provided by their visiting GP) and sign the form to provide consent. The practice will then enter the patient's registration details into the MyMedicare system to complete the registration. 

 
The Department of Health and Aged Care have released a GP Communication toolkit to help you engage with your patients about MyMedicare and answer questions they may have. The toolkit includes promotional material such as posters, suggested social media posts and newsletter content.
Please visit the Department of Health and Aged Care for further information regarding patient registration and for notes on specific patient groups including DVA Veteran Card holders, children and young people. 
Please review and download our MyMedicare Key Messages for staff and patients document, providing assistance for general practices and their staff to answer patient queries and support registration. 
How CCQ can help
CCQ will continue to keep practices informed via our newsletters, Primary Health Coordinators and our website. The Department of Health and Aged Care is continuing to update its website as well. 
Further resources
---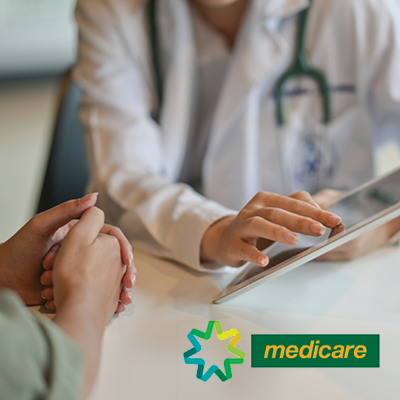 Last Updated on October 24, 2023.